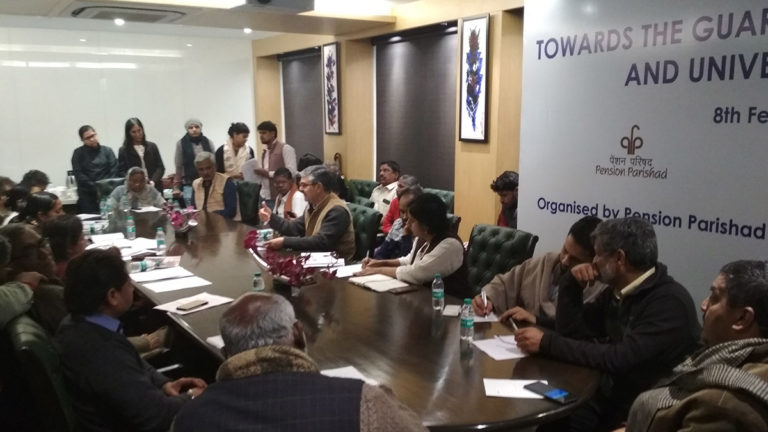 Roundtable & Jan Manch on Pensions
Constitution Club of India
Samruddha Bharat in collaboration with Pension Parishad, a network of civil society organisations demanding universal pension for all workers in India, organised a roundtable and jan manch on the National Social Assistance Programme and Urban Employment Guarantee Programme in December 2018 and February 2019.
Participants: The discussions were attended by eminent academics, activists, and policymakers. These included Ashwani Kumar (former union Minister for Law & Justice), DP Tripathi (Member of Parliament & General Secretary, Nationalist Congress Party), Prof. Prabhat Patnaik, Nikhil Dey, Kamayani Swami, Abhay Kumar, Praavita Kashyap, Amit Sharma, Dr. Rajendran Narayanan etc.
Outcomes: The two events highlighted the juridical and political neglect regarding the National Social Assistance Programme (the central pension scheme in India). In this context, policymakers agreed to consider
A Universal and Non Contributory Pension System with a minimum dignified amount of monthly pension not less than 50% of minimum wage, which should be linked to inflation;
Delinking the delivery of pensions from Aadhar, and the APL/BPL criteria;
Proposing that the State relax the eligibility age for pensions to 50 years. For highly vulnerable groups (such as the Particularly Vulnerable Tribal Groups, Transgender, Women compelled to become Sex Workers, Person With Disabilities (PWDs), de-notified and nomadic tribes, homeless, widows), the eligibility age should be 45 years.