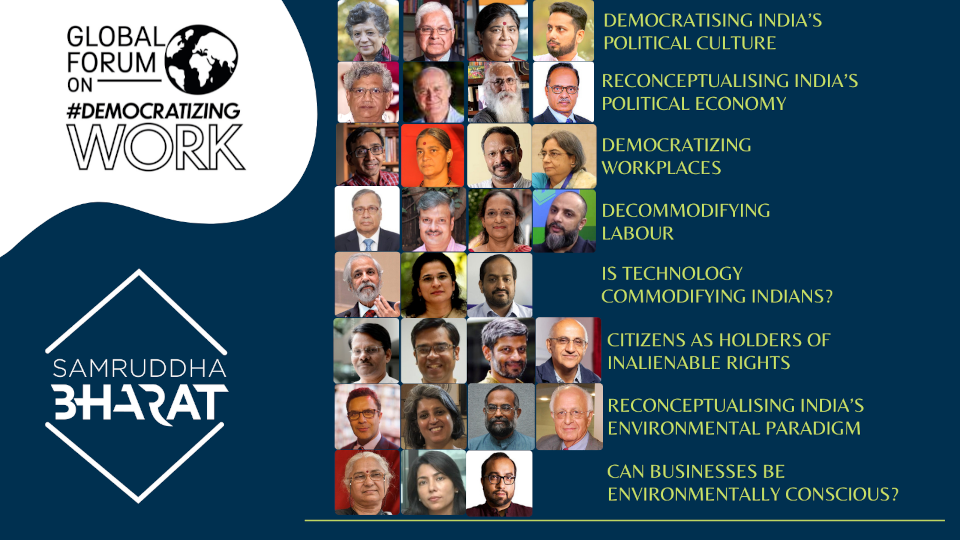 Global Forum on Democratizing Work
Samruddha Bharat Foundation curated the National Chapter of Global Forum on Democratizing Work: Democratize, Decommodify, Decarbonize on 05-07 October 2021. Jointly organised by the Global Forum on Democratising Work, this first-ever Global Forum on Democratising Work convened to collectively reflect on and forge a holistic blueprint on how we can democratise work, empower labour (both in the organised and unorganised sectors), deepen legal protections and entitlements for labour and address structural exclusions/discriminations. It also strived to create a trans-national alliance cutting across geographical and disciplinary boundaries.
In this spirit, the Global Forum gathered participants from the universities, trade unions, progressive businesses, public institutions, environmental and human rights NGOs. The participants had the opportunity not only to attend sessions with prominent figures whose work focuses on the three core principles (Democratize, Decommodify, Decarbonize), but also to discuss ideas and initiatives in smaller groups, based on common but diverse interests, paving the way towards orchestration.
The core committee of the India chapter consisted of Amitabh Behar, Prof. Neera Chandoke, Prof. Praveen Priyadarshi, Salman Soz, Siddharth Vardarajan and Prof. Vidhu Verma. The India chapter of the three-day virtual event saw eight successful panel discussions with the participation of 30 eminent participants across party lines and sectors.